Vignoble Dampt
The roots of the Dampt family run deep in the history of the Chablis region.
Agriculturalists for the past five generations, in 1980, Bernard Dampt decided to expand into viticulture in order to ensure a future for his three sons. With his first parcels, Bernard Dampt became a member of the Cave Coopérative de la Chablisienne and produced his first vintage in 1981. Over the following three decades, the family vineyard holdings have expanded with the arrival of each of Bernard's sons – Eric in 1985, Emmanuel in 1990 and Hervé in 1998. In 2005, the family acquired their first parcel of Grand Cru Les Preuses. 
The Dampt brothers, who now own 90 hectares in the Chablis and Tonnerre vineyards, are based in Collan, midway between Chablis and Tonnerre to the east of the appellation. 
Their approach to viticulture and winemaking is based on the common sense approach that is gleaned from older generations of farmers. Vineyards are ploughed after each harvest and cover crops, such as wheat, are grown between the rows to avoid erosion. 
Directors & oenologists : Eric & Emmanuel Dampt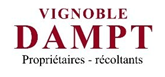 Vignoble Dampt
Rue de Fleys
89700 Collan
Tel. : +33 3 86 55 29 55
Email : vignoble@dampt.com

dampt.com